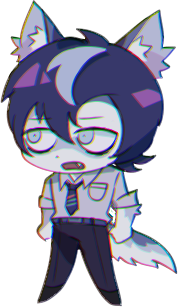 THIS IS THE DOG I'M INTERESTED IN...HIS NAME IS

GAT


GENDER: MALE (♂) , HE/HIM
SPECIES: HUSKY
MBTI: INFJ
JUST SOME BASIC DATA I HAVE BEEN ABLE TO COLLECT FROM HIM.
HE IS SUFFERING FROM CHRONIC HEADACHES, FREQUENT NIGHT TERRORS, AS WELL AS LOSS OF TIME. THIS LOSS OF TIME SEEMS TO BE LINKED TO SLEEPWALKING...

GAT HAS CONFIDED IN ME. HE SAYS THAT HIS THOUGHTS AREN'T OFTEN PLEASANT, SAYING HE ISN'T SURE "WHO HE REALLY IS ANYMORE". I WANT HIM TO EMBRACE INSTINCT.